A volume in the Image Processing series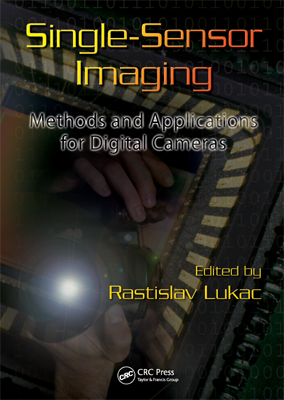 Single-Sensor Imaging:
Methods and Applications for Digital Cameras
Edited by:
Rastislav Lukac
Epson Edge, Toronto, Ontario, Canada
Boca Raton, FL, CRC Press / Taylor & Francis, September 2008
ISBN 978-1-4200-5452-1
Audience: Scientists and development engineers involved with digital image processing, computer engineering, computer science, biomedical engineering, digital imaging, digital signal processing, computer vision, multimedia, visual communication systems, applied physics, acoustics, and applications including digital TV, image-enabled consumer electronics, games industry, satellite imagery, defense systems, remote sensing, art, and medical imaging.
The past decade has brought a surge of growth in the technologies for digital color imaging, multidimensional signal processing, and visual scene analysis. These advances have been crucial to developing new camera-driven applications and commercial products in digital photography. Single-Sensor Imaging: Methods and Applications for Digital Cameras embraces this extraordinary progress, comprehensively covering state-of-the-art systems, processing techniques, and emerging applications.
Single-Sensor Imaging: Methods and Applications for Digital Cameras presents leading experts elucidating their own accomplishments in developing the technologies reshaping this field. The editor invited renowned authorities to address specific research challenges and recent trends in their areas of expertise. The book discusses single-sensor digital color imaging fundamentals, including reusable embedded software platform, digital camera image processing chain, optical filter and color filter array designs. It also details the latest techniques and approaches in contemporary and traditional digital camera color image processing and analysis for various sophisticated applications, including:
| | |
| --- | --- |
| | Demosaicking and color restoration |
| | White balancing and color transfer |
| | Color and exposure correction |
| | Image denoising and color enhancement |
| | Image compression and storage formats |
| | Red-eye detection and removal |
| | Image resizing |
| | Video-demosaicking and superresolution imaging |
| | Image and video stabilization |
Single-Sensor Imaging: Methods and Applications for Digital Cameras builds a strong fundamental understanding of theory and methods for solving many of today's most interesting and challenging problems in digital color image and video acquisition, analysis, processing, and storage. A broad survey of the existing solutions and relevant literature makes this book a valuable resource both for researchers and those applying rapidly evolving digital camera technologies.
Features:
| | |
| --- | --- |
| | Examines the latest techniques, algorithms, and solutions for visual data acquisition, analysis, processing, and storage |
| | Comprehensively covers system design, implementation, and application aspects of digital color camera imaging |
| | Provides an analysis of recent advances in visual information sampling |
| | Contains numerous examples, illustrations, and tables summarizing the results of various quantitative studies |